All these books have been recommended by people who have direct experience of the issues in question with a brief explanation of why.
Some are Christian books, which can be a help in addressing not just the surface issues, but understanding the bigger issues at stake, all from a God-focused perspective.
Inclusion on the list does not necessarily mean an endorsement by UtR.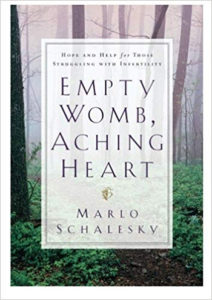 Empty Womb, Aching Heart
Marlo Schalesky
This book is an accurate representation of the agonising trial of infertility. Not all the stories have the happy ending we expect to find, but it shows God's faithfulness in blessing lives, with or without children. It deals honestly with the emotional, mental and spiritual challenges infertility brings.
When The Cradle is Empty
John & Sylvia Van Regenmorter
Deals with the emotions and grief of coming to terms with infertility.